Description
Details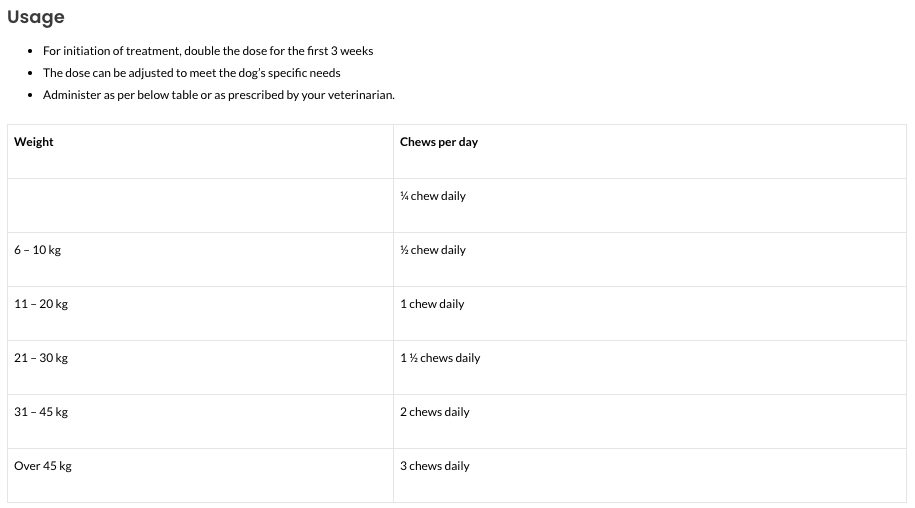 Additional Info
Additional Info
| | |
| --- | --- |
| Brands | GCS |
| Pet Type | No |
| Featured | No |
| Product Type | No |
| Product Feature | Joint Care |
| Breed | No |
| Breed Size | All Breeds |
| Flavour | No |
| Lifestage | Adult |
| Size Chart | No |
Reviews
Customer Reviews (13)
Very effective
Extremely effective. You will notice a significant difference in your dog's mobility and comfort.
(Posted on 25/01/2021)
Excellent health care product.
These joint care chews are essential for larger breed pets, and pets who have been for joint surgery. They are effective and a noticeable improvement can be seen within the first few weeks of using these chews.
(Posted on 29/08/2020)
This treat really treats!
My little girl had a lactating patella... After using these for about two weeks, I could definitely see a difference! No more limping or anything. She'd run and play with no problems at all!
Highly recommended by me and my furbaby!!
(Posted on 27/08/2020)
Great product
Both my arthritic 9 yr olds love their daily 'treat' and I have seen much improvement in their morning stiffness and general wellbeing
(Posted on 25/06/2020)
Good product
Definitely noticed more energy and playfulness in my 9 year old Pekingese. He's back to the way he was a few years ago.
(Posted on 27/04/2020)
Excellent product
My furchild absolutely loves these chews, it has made a huge difference in her movement and every morning she waits for her "sweetie", so much better and more convenient than the powder
(Posted on 17/04/2020)
Amazing product
My dogs go crazy for this product which is unusual for medicated items.
There is a definite improvement in mobility and decrease in pain. This means less need for analgesics.
(Posted on 04/11/2019)
Very happy with product
My 13-year-old Jack Rusell love the chews and it really works. A little expensive, but worth it.
(Posted on 21/08/2019)
Great Product
My 11-year-old Boerboel has been taking these for 2 months now and I can really see a difference in his behaviour. He moves much easier and wants to play more frequently.

I am so glad I finally found a great, working, product with no bad side effects.
(Posted on 24/06/2019)
Reliable treat/medicine
The chews are so yummy our dalmation waits for them each morning, nice to have a product that must taste good and helps our dog all at the same time.
(Posted on 05/06/2019)
Value for money
These chewies (which my dog loves!) really helps his joints - can see the difference, and it is so easy to get him to eat them!
He sees it as treats ;)
(Posted on 05/04/2019)
Great product
These chews are so much easier than mixing the powder. I have seen improvements in my boeboel's condition since we added these to his intake. And it's a medicine he loves to take.
(Posted on 25/03/2019)
An excellent product
GCS Advanced is one of the few joint products that has helped my arthritic Labrador. The chews are palatable, and they're easier to manage/keep track of than the liquid.
(Posted on 13/03/2018)
Shipping Info
We offer FREE SHIPPING for all orders over R500 within the metro areas of Durban, Johannesburg, Pretoria and Cape Town.
Outside of these areas, the shipping cost you pay is dependent on your location and if you live in a regional area, it may depend on the size of your order. You will be notified of the final shipping cost to your area before you pay for your order so you can be 100% sure of what you are paying for with Pet Heaven. Alternatively, you can view the costs here: https://www.petheaven.co.za/delivery-terms/.
Dispatch Information:
Most of our orders are dispatched within 24hrs after payment and we provide online tracking through our courier partners. We deliver to local and main areas within 3 working days and to other national areas within 5 working days.
Deliveries to rural areas are made once a week and can therefore take up to 7 working days.