Description
Details
Kit Cat Soya Clump Cat Litter can absorb moisture up to 3 times more than traditional clay and crystal litters. With an instant clumping formula and fast absorption rate, your cat's litter tray is protected from the build-up of toxic ammonia and urine odor.
Kit Cat Soya Clump Cat Litter is flushable, light and easy to scoop and as it is produced from food-grade natural soybeans, it contains no synthetic chemicals or dyes making it safe for kittens, cats and yourself.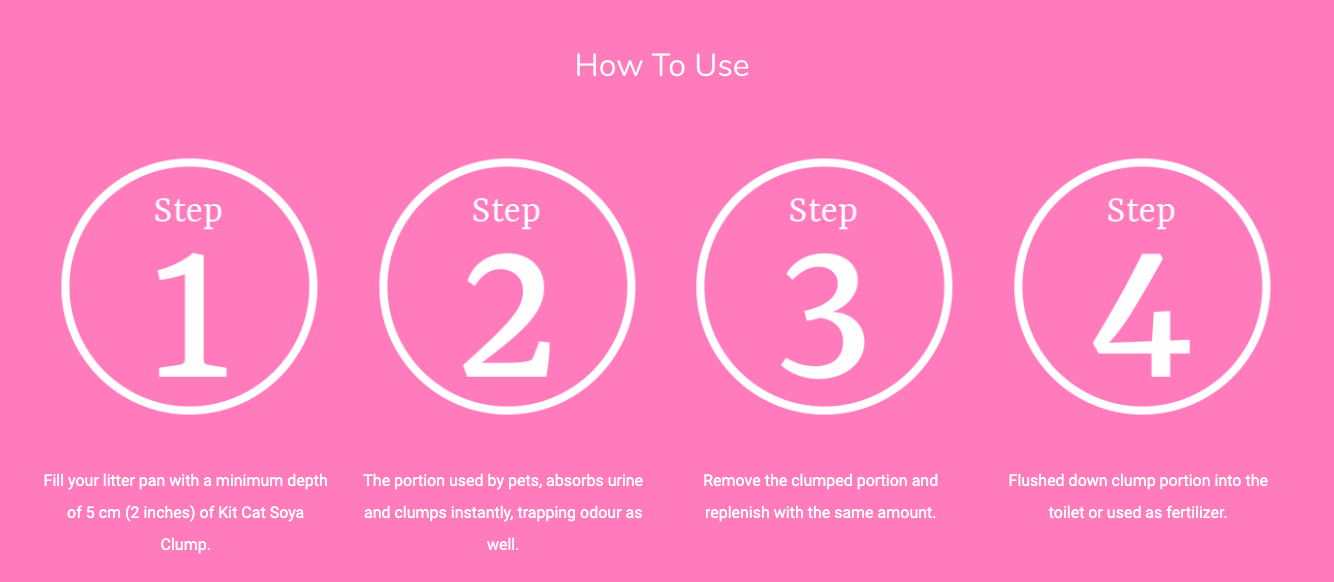 Additional Info
Additional Info
| | |
| --- | --- |
| Brands | Kit Cat |
| Pet Type | Cat |
| Featured | No |
| Product Type | Litter |
| Product Feature | Clumping, Dust Free, Eco-Friendly, Flushable |
| Breed | No |
| Breed Size | No |
| Flavour | No |
| Lifestage | No |
| Size Chart | No |
Reviews
Customer Reviews (14)
Amazing Product
My cat absolutely loves this product, Highly recommend it. No smell and easy to clean!
(Posted on 24/11/2021)
Lovely but not a fan of the scent
An incredible product with no tracking, we are just not partial to the fragrance and it will come down to your own personal preference - I couldn't handle it as it seemed a bit too sweet but my nose is overly sensitive
(Posted on 30/07/2021)
Absolutely fantastic product!
Easy to use and smells amazing. And I'm obsessed with the pink!
(Posted on 09/03/2021)
Great product
The ONLY reason I'm not giving it a 5/5 is that it is not that easy to just scoop & sift, you do need to scrape from the bottom (especially when not deep enough or the cat loves digging deep to the bottom) but it clumps great, and the smell is great.
(Posted on 28/08/2020)
Excellent litter
Highly effective clumping, looks attractive, and the cats love it. Very well priced for how well it works. Only downfall I found was that clumps sometimes stick to the bottom of the tray, and unfortunately only available in small bags.
(Posted on 19/08/2020)
This is what I was waiting for
Good product. Low maintenance and my new kitten has settled nicely to his pooper. Good to have found this site and have them stock it. Hard to find in my neighbourhood.
(Posted on 25/03/2020)
5 star product
I love this litter. Have 2 cats and 2 litter trays. Pink for my girl and green for my boy. Litter lasts about 4 weeks. Good value for money. Odourless and flushable. Highly recommended this product!
(Posted on 29/11/2019)
Best litter
I love this litter. Value for money - lasts 4–6 weeks.
Absorbs odours and is flushable.
Buy pink for my girl and green for my boy!
(Posted on 29/11/2019)
Best litter
This is the best litter, my cats love it NO smells and easy to clean
(Posted on 05/09/2019)
Great product
What an amazing product. I was skeptical at first as my cats are quite messy and I wasn't sure if it was worth the money. However, my doubts were proven wrong. I have had the litter in for 3 weeks already and it's doing amazing! There is no odor and my cats love it.
(Posted on 27/08/2019)
Great product
I was really skeptical about trying this product as it isn't cheap however, it's lasted me way longer than expected. I have two cats and have been using it for 3 weeks already. It's amazing. It leaves no smell and my whole bathroom is much cleaner. I would highly recommend this product.
(Posted on 26/08/2019)
Cat litter
Clumping litter is best, this one leave no odours.
(Posted on 05/08/2019)
Best Cat Litter Ever
This really is the best cat litter.
So easy to clean and leaves no odour behind.
It seems a bit expensive but it's definitely worth it. It lasts long and its so easy to use. I won't go back to any other cat litter
(Posted on 27/05/2019)
Great smell
Great smell clumps very easily.
(Posted on 07/02/2019)
Shipping Info
We offer FREE SHIPPING for all orders over R500 within the metro areas of Durban, Johannesburg, Pretoria and Cape Town.
Outside of these areas, the shipping cost you pay is dependent on your location and if you live in a regional area, it may depend on the size of your order. You will be notified of the final shipping cost to your area before you pay for your order so you can be 100% sure of what you are paying for with Pet Heaven. Alternatively, you can view the costs here: https://www.petheaven.co.za/delivery-terms/.
Dispatch Information:
Most of our orders are dispatched within 24hrs after payment and we provide online tracking through our courier partners. We deliver to local and main areas within 3 working days and to other national areas within 5 working days.
Deliveries to rural areas are made once a week and can therefore take up to 7 working days.