Description
Details
Reg No.: V 15673 (Act 36 of 1947)
Ultra Dog does not use any colourants or preservatives in our food, hence the colour of the kibble may vary slightly.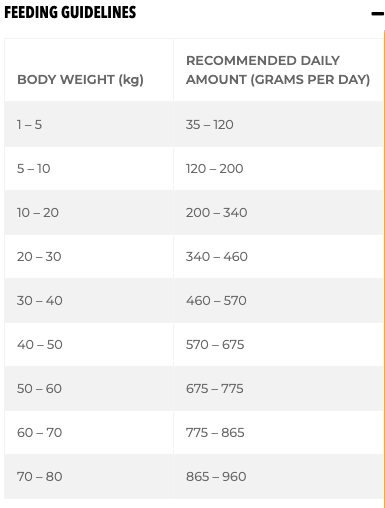 Additional Info
Additional Info
| | |
| --- | --- |
| Brands | Ultra Dog |
| Pet Type | No |
| Featured | No |
| Product Type | Dry Food |
| Product Feature | Preservative Free, Weight Control |
| Breed | No |
| Breed Size | All Breeds |
| Flavour | Chicken |
| Lifestage | Adult |
| Size Chart | No |
Reviews
Customer Reviews (8)
Ultra Dog Special Low Calorie Diet Dog Food
My one fur-baby has lost some weight since he has been on Ultra Dog Special Low Calorie Diet Dog Food and they love their kibbles!
(Posted on 09/03/2022)
It is helping to control my dogs weight
My lab has been eating too much so this dog food has been doing well to help control his weight
(Posted on 09/12/2021)
Our boy hasn't gained weight
Our boy has been struggling with his weight for sometime now. Although we found a different brand to be better in actual weight loss the brand was very expensive, our boy didn't seem to like it as much and we found it wasn't sustainable long term. Now that our boy is at a descent weight we do find that not only does this brand ensure he stays at this weight but that he also seems to enjoy his food again.
(Posted on 24/11/2021)
Bruno lost 4kg's
My slightly obese GSP has lost 4kg while being on this food for the last 3 months. We haven't changed anything in his lifestyle apart from his food and I must say I am very impressed. Highly recommend!
(Posted on 04/11/2021)
Excellent value for money
Recommended by my Vet as a budget friendly choice, my lab has lost and kept of his extra weight, and I've had him on the Senior and Joint Support versions, this one is where he is happiest and most energetic. (And the "by-product" is not a horrible chore)
(Posted on 23/06/2021)
Great for weight loss across breeds and sizes
On the advice of my vet I gave this food to my dachshund and my GSP to try and shed some pounds. Both had great results within 3 months. The dachshund lost 2kg and gained beautiful lean muscle. Their coats are super shiny and they are happier than ever.
(Posted on 21/01/2021)
Good product
My overweight labrador scoffed this food down and lost a great deal of weight but unfortunately had to return her back to a brand for allergies. Unfortunately she busy gaining weight again
(Posted on 26/09/2020)
Awesome
Amazing food and works great. My overweight dogs lost a ton of weight on this, would definitely recommend it!
(Posted on 14/04/2016)
Shipping Info
We offer FREE SHIPPING for all orders over R500 within the metro areas of Durban, Johannesburg, Pretoria and Cape Town.
Outside of these areas, the shipping cost you pay is dependent on your location and if you live in a regional area, it may depend on the size of your order. You will be notified of the final shipping cost to your area before you pay for your order so you can be 100% sure of what you are paying for with Pet Heaven. Alternatively, you can view the costs here: https://www.petheaven.co.za/delivery-terms/.
Dispatch Information:
Most of our orders are dispatched within 24hrs after payment and we provide online tracking through our courier partners. We deliver to local and main areas within 3 working days and to other national areas within 5 working days.
Deliveries to rural areas are made once a week and can therefore take up to 7 working days.
Ingredients
Ingredients
Cereals*
Derivatives of vegetables origin and vegetable protein extract
Natural fibre source
Meat and animal derivatives
Minerals (including calcium
Phosphorus
Potassium
Sodium
Chloride
Magnesium
Zinc
Iron
Copper
Manganese
Iodine
Selenium)
Vitamins (including vitamin A
Vitamin D
Vitamin E
Niacin
Pantothenic acid
Vitamin B6
Vitamin B1
Vitamin B2
Folic acid
Vitamin B12
Choline)
Palatability enhancer
Oils and fats
Mannan- oligosaccharide
Glucosamine and chondroitin
Green-lipped mussel extract
L-carnitine
Approved antioxidants.