Description
Details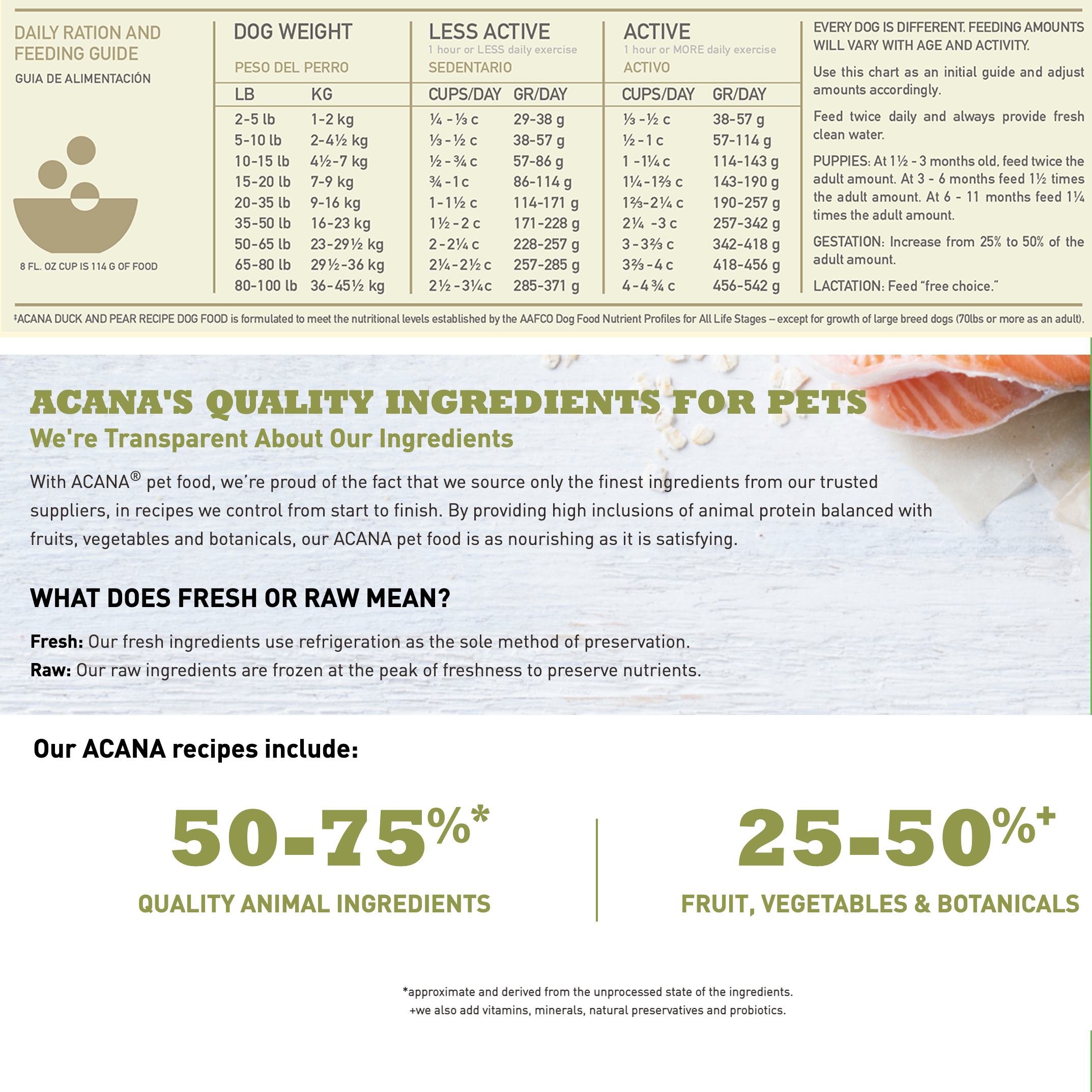 Additional Info
Additional Info
| | |
| --- | --- |
| Brands | Acana |
| Pet Type | Dog |
| Featured | No |
| Product Type | Dry Food |
| Product Feature | No |
| Breed | No |
| Breed Size | All Breeds |
| Flavour | Chicken, Fish, Turkey, Vegetables |
| Lifestage | Senior |
| Size Chart | No |
Reviews
Customer Reviews (7)
Great for senior dogs
This is the first food I found in 10 years that my dog absolutely love. I recommend it highly for older dogs.
(Posted on 17/08/2021)
Pricey but great
My 12 year old has digestive issues and there is no other grain free product on the market so I had to change. Got no complaints other than the price.
(Posted on 30/05/2021)
Caused serious Gas
I started my 10yr old Rottweiler on this a few months ago and immediately noticed the increase in bad flatulence which he had. I was advised that this was due to the higher percentage of protein and would settle down. Unfortunately it only seemed to get worse and after on and off bouts of diarrhea and I'm going back to Hills.
(Posted on 25/09/2019)
Happy dog Happy house
We have a 13-year puppy and we are really happy with the amount of protein he gets from this. We saw his skin and hair get healthier after the first bag he devoured.
Definitely buying this product again.
(Posted on 21/05/2019)
Acana Heritage Senior Dog Food
Both my labs are 11 and coats are shiny, they love the taste, weight is stable and they are looking good!
(Posted on 21/03/2019)
Awesomenessness!
My dog took to this food without any 'questions' or turning up of her nose. I am very impressed.

She was on Royal Canin for a while but the food simply became too expensive to maintain all my pets.

I am RELIEVED for it being gluten-free and full of natural goodness like wild-caught fish.

Thank you for find the Best, Pet Heaven!

You guys ROCK! :)
(Posted on 25/07/2018)
Pricey but worth every cent
I recently switched my two dogs onto Acana Senior and I've already notice a difference in their coats, their mobility and their energy levels. When I gave the first bowl of food, I mixed it with their old pellets so as to avoid any upset tummies and my one dog picked all the Acana pellets out and left the other ones in the bowl!! Their bowls are licked shiny clean after their meals. Clearly the taste of Acana is superior :)
I'm very happy with this product!

(Posted on 24/03/2018)
Shipping Info
We offer FREE SHIPPING for all orders over R500 within the metro areas of Durban, Johannesburg, Pretoria and Cape Town.
Outside of these areas, the shipping cost you pay is dependent on your location and if you live in a regional area, it may depend on the size of your order. You will be notified of the final shipping cost to your area before you pay for your order so you can be 100% sure of what you are paying for with Pet Heaven. Alternatively, you can view the costs here: https://www.petheaven.co.za/delivery-terms/.
Dispatch Information:
Most of our orders are dispatched within 24hrs after payment and we provide online tracking through our courier partners. We deliver to local and main areas within 3 working days and to other national areas within 5 working days.
Deliveries to rural areas are made once a week and can therefore take up to 7 working days.
Ingredients
Ingredients
Fresh chicken meat (16%)
Chicken meal (15%)
Turkey meal (14%)
Red lentils
Whole green peas
Fresh chicken giblets (liver
Heart
Kidney) (4%)
Herring meal (4%)
Pea fibre
Cage-free eggs (4%)
Fresh whole flounder (4%)
Herring oil (2%)
Sun-cured alfalfa (2%)
Field beans (2%)
Green lentils
Whole yellow peas
Chicken fat (1%)
Chicken cartilage (1%)
Dried brown kelp
Fresh whole pumpkin
Fresh whole butternut squash
Fresh whole parsnips
Fresh kale
Fresh spinach
Fresh mustard greens
Fresh turnip greens
Fresh whole carrots
Fresh Red Delicious apples
Fresh Bartlett pears
Freeze-dried chicken liver
Freeze-dried turkey liver
Fresh whole cranberries
Fresh whole blueberries
Chicory root
Turmeric
Milk thistle
Burdock root
Lavender
Marshmallow root
Rose hips.
SUPPLEMENTS: Zinc chelate. Vitamin E (preservative).
*Contains mixed tocopherols (a tocopherol rich extract of natural origin- Vitamin E and Rosemary Oil). Also contains the probiotic Enterococcus faecium.