Description
Details
Reg No.: G 4407 (Act 36/1947)
Active Ingredients: Milbemycin & Praziquantel
Standard deworming:
It is advised to worm puppies at the age of 2, 4, 6 and 8 weeks, then monthly until the age of 6 months. Adult animals can be dewormed 4 times per year. Lactating dogs should also be dewormed.
Heartworm Prevention:
For the prevention of heartworm we advise administering Milpro according to the following schedule:

Dogs traveling through Southern and Eastern Europe (endemic areas) must be protected against worm infections. They should be treated in the risk area within 30 days of arrival.

For dogs who stay less than a month in risk areas, a one-time treatment will be necessary, usually shortly after returning home.

During prolonged visits, a monthly schedule should be implemented wherein the first treatment is to be administered 30 days after visiting the risk area, and at least one month after departure.
Do not use:
Do not use in puppies under 2 weeks or weighing less than 0.5 kg.
Dosage: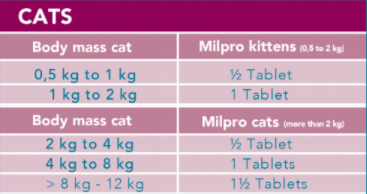 Additional Info
Additional Info
| | |
| --- | --- |
| Barcode | 6009634799018 |
| Brands | Virbac |
| Pet Type | No |
| Featured | Premium |
| Product Type | Deworming |
| Product Feature | Skin & Coat |
| Breed | Non-Specific |
| Breed Size | All Breeds |
| Flavour | Beef |
| Lifestage | All |
| Size | Single |
| Size Chart | No |
Reviews
Customer Reviews (1)
Good value
I tried Milpro last year for the first time and was happy with it . We foster and tame feral and found Milpro budget friendly . Although I did get a fright when I saw the worms being expelled in their poop ,...the worms are all dead ,and the poop should be discarded responsibly.
(Posted on 10/05/2021)
Shipping Info
We offer FREE SHIPPING for all orders over R500 within the metro areas of Durban, Johannesburg, Pretoria and Cape Town.
Outside of these areas, the shipping cost you pay is dependent on your location and if you live in a regional area, it may depend on the size of your order. You will be notified of the final shipping cost to your area before you pay for your order so you can be 100% sure of what you are paying for with Pet Heaven. Alternatively, you can view the costs here: https://www.petheaven.co.za/delivery-terms/.
Dispatch Information:
Most of our orders are dispatched within 24hrs after payment and we provide online tracking through our courier partners. We deliver to local and main areas within 3 working days and to other national areas within 5 working days.
Deliveries to rural areas are made once a week and can therefore take up to 7 working days.
Ingredients
Ingredients
Milbemycin & Praziquantel