Description
Details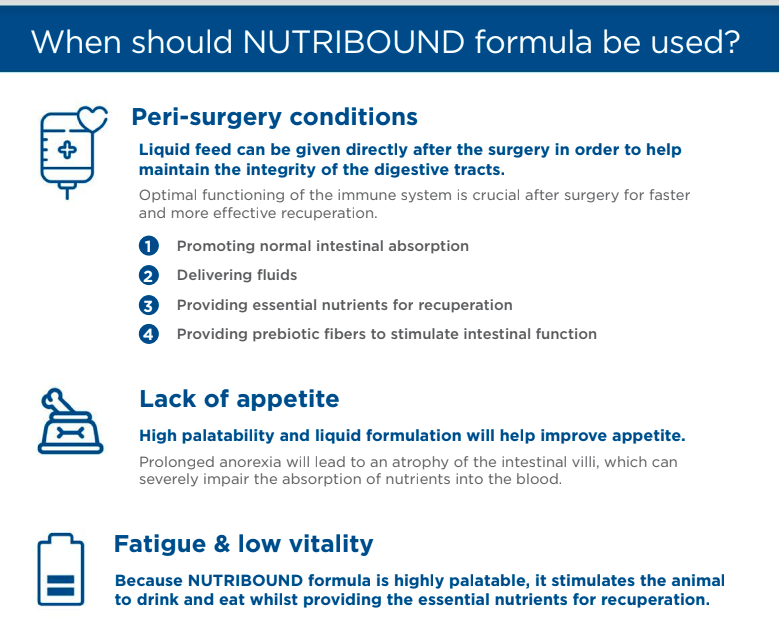 Directions for use :
Use only as directed.
To open the bottle for the first time, unscrew the white cap and perforate the safety film.
Shake well before use. Sedimentation is normal.
Measurement.
It is recommended that a veterinarian's opinion be sought in case of doubt about the animal's condition.
A daily intake of 6 ml per kg body weight is recommended, in one or several intakes. Nutribound® can be given pure, with water or poured on the food. Water should be available at all times.
Use the cup inside the box for accurate measurement and give Nutribound® as follows:

*This table is given as an indication.
Nutribound® can be given during the convalescence period, from the earliest stage and until a return to a usual diet occurs. The recommended protocol is divided into 3 phases:
Start-up: From the first hours of the convalescence period the cat can be given Nutribound® in order to achieve rehydration and the supply of the essential nutrients.
Follow-up: After 48 hours, introduction of feeding is necessary. To increase tolerance in heavily affected animals, small and repeated intakes of high energy and highly digestible nutrients are recommended in addition to Nutribound®.
Transition: Nutribound® can be given with the usual diet to help the pet to return to its normal diet.
This liquid form also enables syringe or tube feeding.
Additional Info
Additional Info
| | |
| --- | --- |
| Barcode | 6009634798790 |
| Brands | Virbac |
| Pet Type | No |
| Featured | Premium |
| Product Type | Appetite Stimulation, Digestive Care, Immune Support, Vitamins and Minerals |
| Product Feature | Bottle, Supplements |
| Breed | Non-Specific |
| Breed Size | All Breeds |
| Flavour | Fruit |
| Lifestage | All |
| Size | 1500ml |
| Size Chart | No |
Reviews
Shipping Info
We offer FREE SHIPPING for all orders over R500 within the metro areas of Durban, Johannesburg, Pretoria and Cape Town.
Outside of these areas, the shipping cost you pay is dependent on your location and if you live in a regional area, it may depend on the size of your order. You will be notified of the final shipping cost to your area before you pay for your order so you can be 100% sure of what you are paying for with Pet Heaven. Alternatively, you can view the costs here: https://www.petheaven.co.za/delivery-terms/.
Dispatch Information:
Most of our orders are dispatched within 24hrs after payment and we provide online tracking through our courier partners. We deliver to local and main areas within 3 working days and to other national areas within 5 working days.
Deliveries to rural areas are made once a week and can therefore take up to 7 working days.
Ingredients
Ingredients
Meat and animal derivatives (4,07 %), derivatives of vegetable origin (6,70 %), oils and fats (1,50 %), minerals (0,62 %), chicory inulin (0,3 %), fructo- oligosaccharides (0,11 %).