Description
Details
Registration: G3536 (Act 36/1947)
Active Ingredients: Imidacloprid 10% Permethrin 50%
Dosage: Use one 1.0 ml tube per dog weighing over 4 kg and up to 10 kg.
Why Advantix?
Protects dogs from fleas, ticks, mosquitoes, sandflies, stable flies and lice
Kills fleas and ticks on contact so there is no need for them to bite your dog
Repels ticks, including the deadly paralysis tick
Effective even when your dog gets wet
How does it work?
Advantix contains two main active ingredients called imidacloprid and permethrin that work in combination against fleas, ticks, mosquitoes, sandflies, lice and stable flies. The treatment is administered as a simple spot-on treatment. Advantix stays effective even when your dog gets wet.
Can my children still pet my dog if treated with Advantix?
Yes. Always allow the application site to dry.
Can I use Advantix on my dog if I also have a cat in the house?
Yes. For owners whose cats have close contact with or groom their dog, keep your cat separated from your Advantix-treated dog for up to 48 hours. After this period, there should be no need to worry about your dog interacting with your cat.
Advantix is not suitable for cats, and should only ever be used on dogs.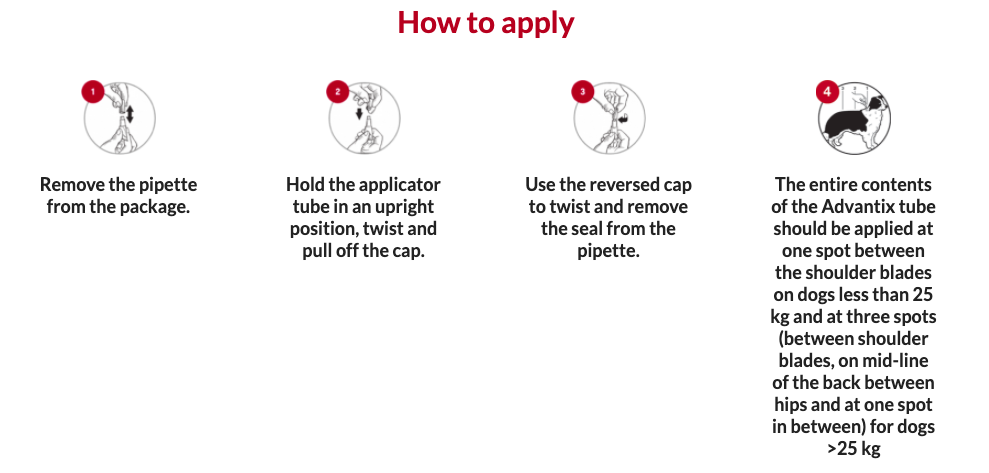 Additional Info
Additional Info
| | |
| --- | --- |
| Brands | Advantix |
| Pet Type | No |
| Featured | No |
| Product Type | Tick & Flea |
| Product Feature | Spot On |
| Breed | Non-Specific |
| Breed Size | Medium Breed |
| Flavour | None |
| Lifestage | Adult |
| Size Chart | No |
Reviews
Customer Reviews (2)
Great for Ticks
Bought this for my mom's dog who kept picking up ticks when going on walks. Works great and haven't had any issues with ticks since using Advantix. Also like that it works for lice too since we have alot of birdlife in the area. Her dog scratches / itches a lot less now.
(Posted on 24/11/2021)
The Best
The best for flea and tick control.
(Posted on 25/08/2020)
Shipping Info
We offer FREE SHIPPING for all orders over R500 within the metro areas of Durban, Johannesburg, Pretoria and Cape Town.
Outside of these areas, the shipping cost you pay is dependent on your location and if you live in a regional area, it may depend on the size of your order. You will be notified of the final shipping cost to your area before you pay for your order so you can be 100% sure of what you are paying for with Pet Heaven. Alternatively, you can view the costs here: https://www.petheaven.co.za/delivery-terms/.
Dispatch Information:
Most of our orders are dispatched within 24hrs after payment and we provide online tracking through our courier partners. We deliver to local and main areas within 3 working days and to other national areas within 5 working days.
Deliveries to rural areas are made once a week and can therefore take up to 7 working days.
Ingredients
Ingredients
Imidacloprid 10% m/v and Permethrin 50% m/v