Description
Details
Reg. No. G3645 Act 36/1947
Active Ingredients: Praziquantel 50 mg, Pyrantel pamoate
The tablet comes in Individual packs for small dogs (up to 10kg) to treat effectively according to the weight of the dog.
Directions for use:
Can be administered directly, or mixed/crushed with a small amount of food
Feeding or fasting before treatment is not necessary
Regular deworming at intervals of 3 or 6 months is advised in order to control worm infestations
Puppies should be dewormed from the age of 2 - 12 weeks at 2-week intervals, and at regular intervals thereafter
Dosage:
Dose according to body mass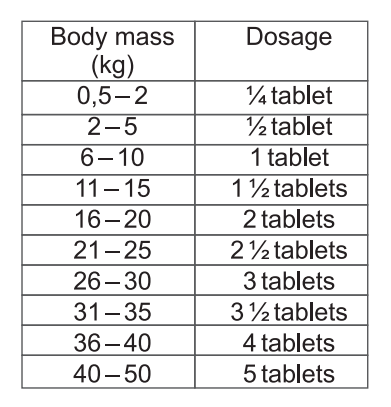 Additional Info
Additional Info
| | |
| --- | --- |
| Barcode | 6009709180611 |
| Brands | Triworm |
| Pet Type | Dog |
| Featured | No |
| Product Type | Deworming |
| Product Feature | Chews |
| Breed | Non-Specific |
| Breed Size | Small Breed |
| Flavour | No |
| Lifestage | No |
| Size | No |
| Size Chart | No |
Reviews
Customer Reviews (9)
Affordable
Affordable and effective.
(Posted on 12/06/2021)
Great product
This is a great product which is super easy to administer. Simply crush into the dogs food or feed the entire tablet to the dog. My dogs did not suffer with any stomach issues after taking the table. Great product and highly recommended.
(Posted on 31/05/2021)
Easy peasy
I sneak this into a little piece of vienna, no problems and my pets are worm free for the next 3 months. It's also cheaper than buying a chewable when you can basically do the same thing at home for less.
(Posted on 07/05/2021)
Worm-free and hassle-free
Just sneak this into a treat and your pet is worm-free for 3 months. This was easier for my puppy to ingest than other brands and did not upset his stomach. Pet Heaven also gave me another free tablet on promotion.
(Posted on 25/03/2021)
Works well
My Jack Russell uses this and has no issues with worms. it also doesn't make him sick.
(Posted on 04/03/2021)
No more worms
Very happy with how well this product works.
(Posted on 28/01/2021)
no more worms
super happy - no more worms
(Posted on 17/11/2020)
Love this product
Easy to disguise in food. My dogs dont notice that it's there. Love this product and it works :)
(Posted on 04/05/2020)
Impressed
I am so impressed with this product simply, because it doesn't upset our dogs stomach as the previous brand we used. Would highly recommend it to anyone!
(Posted on 21/04/2020)
Shipping Info
We offer FREE SHIPPING for all orders over R500 within the metro areas of Durban, Johannesburg, Pretoria and Cape Town.
Outside of these areas, the shipping cost you pay is dependent on your location and if you live in a regional area, it may depend on the size of your order. You will be notified of the final shipping cost to your area before you pay for your order so you can be 100% sure of what you are paying for with Pet Heaven. Alternatively, you can view the costs here: https://www.petheaven.co.za/delivery-terms/.
Dispatch Information:
Most of our orders are dispatched within 24hrs after payment and we provide online tracking through our courier partners. We deliver to local and main areas within 3 working days and to other national areas within 5 working days.
Deliveries to rural areas are made once a week and can therefore take up to 7 working days.