Description
Details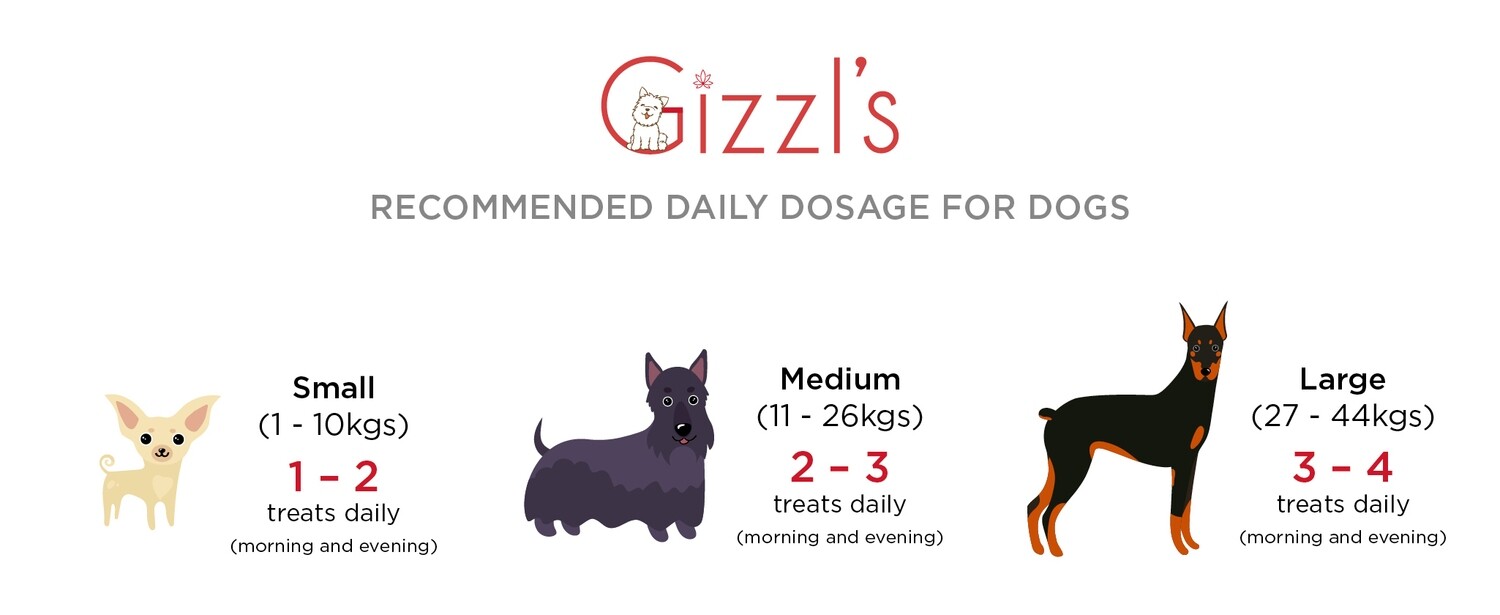 FAQ:
How long does it take for the CBD to start working?
There isn't a one-size-fits-all answer to this question. There are many factors at play here. For instance, how long it takes CBD treats / oil to have an effect depends on the dosage, severity of the ailment, and how fast your pet metabolises the CBD. With that said, when given to your pet orally, CBD generally takes anywhere from 20 to 40 minutes to take effect.
Can i give Gizzles to my cat, rabbit or horse?
All animals have endocannabinoid receptors so our CBD products are completely safe and can be used for any animal.
Additional Info
Additional Info
| | |
| --- | --- |
| Barcode | 737186606756 |
| Brands | Gizzls |
| Pet Type | No |
| Featured | No |
| Product Type | Biscuits |
| Product Feature | CBD, Gluten Free, Preservative Free, Wheat Free |
| Breed | Non-Specific |
| Breed Size | All Breeds |
| Flavour | Peanut |
| Lifestage | All |
| Size | No |
| Size Chart | No |
Reviews
Customer Reviews (5)
Very good.
I bought these to give our 16 year old pug who struggles with dementia. In the evenings he often gets very worked up and confused. I have tried many different types of CBD products for dogs but this is the first one that really seemed to help ease his anxieties. I'll be ordering again when our jar is empty.
(Posted on 28/09/2021)
Just what we needed!
I did a lot of research trying to find ways to help my Doberman pup with his severe separation anxiety and to calm his reactivity to even the smallest things (adopted with a rough past). First day with a cookie and he is so much more calm and he curled up and slept while I took our other pup outside, rather than pacing back and forth. His fur sister is much happier with him as well since he's not jumping all over her!
(Posted on 23/09/2021)
Anxious Frenchie
I have an anxious 6 year old male Frenchie that had a rough time when a new puppy came home. We worked through a lot of behavioural issues and they get along great - most of the time. My anxious guy seems to have an uptick in aggressive/snappy behaviours when he isn't feeling well or is stressed. He now gets a biscuit AM and PM. We've been doing this for a few weeks and all has been well! Just ordered another pack.
(Posted on 06/08/2021)
Works better than meds for sure.
My 12 year old girl has a lot of anxiety and restlessness and arthritis as well. This works really well esp at night to chill her out so we can both sleep!
(Posted on 04/08/2021)
Airedales Rule - When They Are Cool
This product does wonders for our highly-strung Airedale


(Posted on 29/07/2021)
Shipping Info
We offer FREE SHIPPING for all orders over R500 within the metro areas of Durban, Johannesburg, Pretoria and Cape Town.
Outside of these areas, the shipping cost you pay is dependent on your location and if you live in a regional area, it may depend on the size of your order. You will be notified of the final shipping cost to your area before you pay for your order so you can be 100% sure of what you are paying for with Pet Heaven. Alternatively, you can view the costs here: https://www.petheaven.co.za/delivery-terms/.
Dispatch Information:
Most of our orders are dispatched within 24hrs after payment and we provide online tracking through our courier partners. We deliver to local and main areas within 3 working days and to other national areas within 5 working days.
Deliveries to rural areas are made once a week and can therefore take up to 7 working days.