Description
Details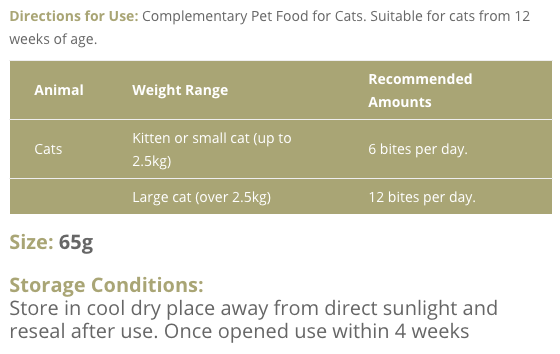 Additional Info
Additional Info
| | |
| --- | --- |
| Barcode | 750826006198 |
| Brands | Mark and Chappell |
| Pet Type | Cat |
| Featured | No |
| Product Type | Biscuits |
| Product Feature | Catnip, Digestive Care, Digestive Health |
| Breed | Non-Specific |
| Breed Size | All Breeds |
| Flavour | Catnip |
| Lifestage | All |
| Size | 65g |
| Size Chart | No |
Reviews
Customer Reviews (4)
Cats love this and great value for money
My cats love these treats and they are the perfect size. The bag lasts me a month so it's a really great buy and value for money. The bag has a resealable top which makes it easy to close once using so that the treats stay fresh
(Posted on 19/02/2022)
Delicious
My cat loves this produce. Thanks for the great product - I use it sparingly because of the price - but also think its worth it!
(Posted on 13/01/2022)
Excellent product
My cat loves this product! It's a bit expensive but it's still worth since it's good for my cat's health.
(Posted on 30/07/2021)
No more urinary tract infections
Our cat used to have urinary tract infections very often and we have seen a massive improvement in his urinary comfort and his overall health too.
(Posted on 17/08/2020)
Shipping Info
We offer FREE SHIPPING for all orders over R500 within the metro areas of Durban, Johannesburg, Pretoria and Cape Town.
Outside of these areas, the shipping cost you pay is dependent on your location and if you live in a regional area, it may depend on the size of your order. You will be notified of the final shipping cost to your area before you pay for your order so you can be 100% sure of what you are paying for with Pet Heaven. Alternatively, you can view the costs here: https://www.petheaven.co.za/delivery-terms/.
Dispatch Information:
Most of our orders are dispatched within 24hrs after payment and we provide online tracking through our courier partners. We deliver to local and main areas within 3 working days and to other national areas within 5 working days.
Deliveries to rural areas are made once a week and can therefore take up to 7 working days.
Ingredients
Ingredients
Meat & Animal Derivatives
Cereals
Oils & Fats (Omega-3 fatty acids 1%
Omega-6 fatty acids 2%)
Derivatives of vegetable origin (Catnip 0.5%
Yucca Schigeria 0.2%
Inulin 0.3%)
Milk & Milk Derivatives (Cheese 4%)
Fruit (Dried Cranberry 4%)
Minerals.